There Is No "Pandemic" There Is No "2nd Wave". It's All A Lie Manufactured By The Media / CDC Cabal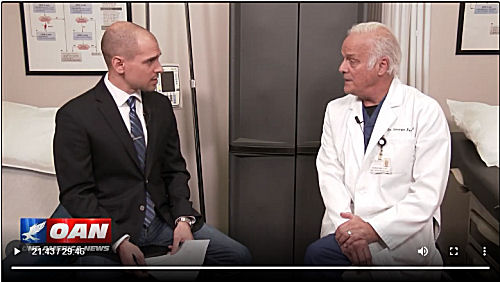 This blockbuster documentary from One America News exposes the biggest scam ever perpetrated on the world.
(It is of course banned by the social media Thought Police). WATCH
____________________________________________________


New World Digest brings you the news, views, and perspectives from
around the world that are rarely reported in the mainstream corporate media.
____________________________________________________
You can use New World Digest to share these videos and article links on Facebook without getting blocked by them
____________________________________________________
In A Blockbuster Report, An Independent Research Team Has Found That The Covid-19, "Crisis" Was Purposely Fueled By False Data, And False Information From The CDC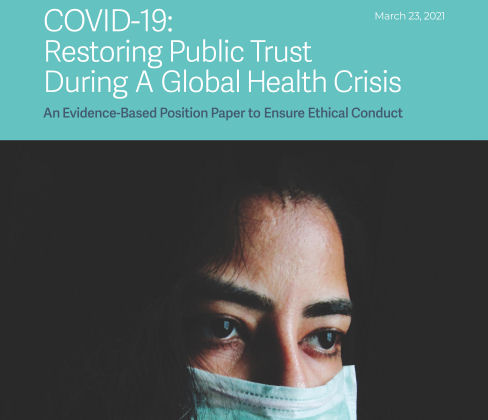 In a special live report in February, Stand for Health Freedom revealed that our ongoing state of emergency has been largely fueled by bad data that has been compromised at the hands of the Centers for Disease Control and Prevention (CDC). Now, an independent research team that has dedicated more than 20,000 hours into investigating all aspects of COVID-19 has found strong evidence of willful misconduct by the CDC and others. This is outlined in a new peer-reviewed position paper, "COVID-19: Restoring Public Trust During A Global Health Crisis."
Citizens from coast to coast have been living under dire circumstances for more than a year now. We all deserve to know if crimes have been committed throughout the COVID-19 crisis. As such, we are calling on advocates nationwide to urge Assistant United States Attorneys to impanel a special grand jury to investigate the CDC's conduct during COVID-19. READ MORE
Former Chief Science Officer for Pfizer Says "Second Wave" Faked on False-Positive COVID Tests, "Pandemic is Over"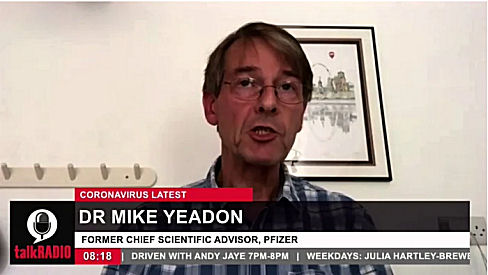 In a stunning development, a former Chief Science Officer for the pharmaceutical giant Pfizer says "there is no science to suggest a second wave should happen." The "Big Pharma" insider asserts that false positive results from inherently unreliable COVID tests are being used to manufacture a "second wave" based on "new cases."
Dr. Mike Yeadon, a former Vice President and Chief Science Officer for Pfizer for 16 years, says that half or even "almost all" of tests for COVID are false positives. Dr. Yeadon also argues that the threshold for herd immunity may be much lower than previously thought, and may have been reached in many countries already.
READ MORE
WATCH VIDEO
Breaking News: November 5th 2020
The World Health Organization (Accidentally) confirms that Covid-19 is No More Dangerous Than The Flu
The infection fatality rate is roughly or 0.14%. Right in line with the seasonal flu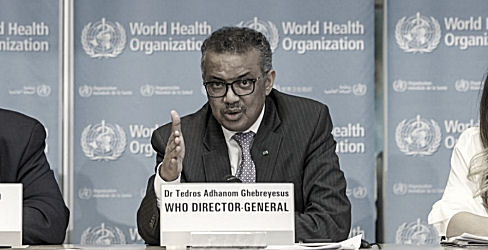 The World Health Organization has finally confirmed what we (and many experts and studies) have been saying for months – the coronavirus is no more deadly or dangerous than seasonal flu.
The WHO's top brass made this announcement during a special session of the WHO's 34-member executive board on Monday October 5th, it's just nobody seemed to really understand it.
In fact, they didn't seem to completely understand it themselves.
At the session, Dr Michael Ryan, the WHO's Head of Emergencies revealed that they believe roughly 10% of the world has been infected with Sars-Cov-2. This is their "best estimate", and a huge increase over the number of officially recognised cases (around 35 million). READ MORE
In this video Dr. David E. Martin exposes Dr. Fauci, Bill Gates, The World Health Organization, and the fact that Covid is a created virus that the CDC holds the patent to. WATCH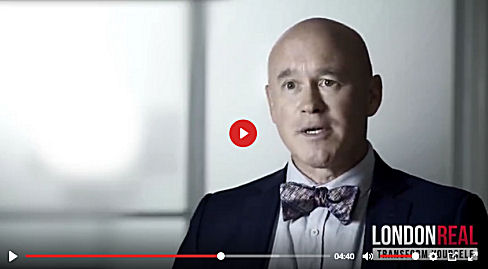 Dr. David E. Martin is the Founder and Chairman of M·CAM Inc., the international leader in innovation finance, trade, and intangible asset finance. He is the developer of the first innovation-based quantitative index of public equities and is the Managing Partner of the Purple Bridge Funds. He is the creator of the world's first quantitative public equity index – the CNBC IQ100 powered by M·CAM WATCH
Plandemic The Full Documentary
(You can share the newworlddigest.org link on Facebook without them blocking it)

This is the long awaited full Plandemic documentary with Dr.David E. Martin and many other doctors, virologists, and researchers that exposes Dr. Anthony Fauci, Bill Gates, the CDC, the "World Health Organization" and the entire Covid-19 scam.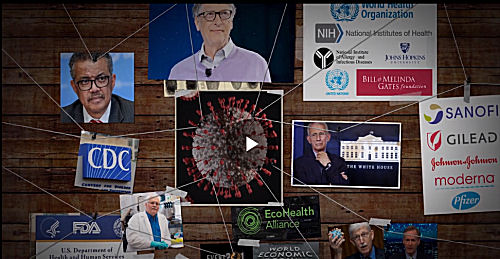 Created by the team behind the game-changing Plandemic video segment from Mikki Willis featuring Dr. Judy Mikovits that went viral and was banned on every major social media platform for exposing the truth about Covid-19, this new FEATURE LENGTH PIECE promises to be the most revelatory film on what is driving the vaccine agenda, the various roles of the WHO, Bill Gates, Tedros Adhanom, Anthony Fauci and more. WATCH
Sweden: the One and Only Chart That Matters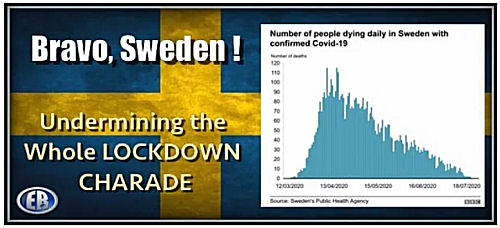 MIKE WHITNEY
While the Covid-19 epidemic continues to drag on in the United States, it's largely over in Sweden where fatalities have dropped to no more than 2 deaths per day for the last week. Sweden has been harshly criticized in the media for not imposing draconian lockdowns like the United States and the other European countries. Instead, Sweden implemented a policy that was both conventional and sensible. They recommended that people maintain a safe distance between each other and they banned gatherings of 50 people or more. They also asked their elderly citizens to isolate themselves and to avoid interacting with other people as much as possible. Other than that, Swedes were encouraged to work, exercise and get on with their lives as they would normally even though the world was still in the throes of a global pandemic.
READ MORE
Breaking News: America's Frontline Doctors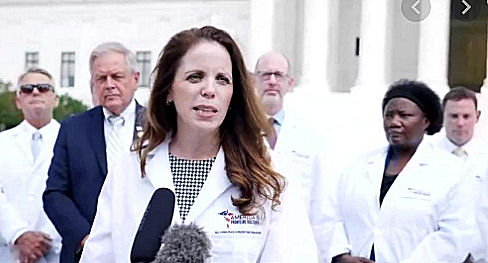 Congressman Ralph Norman and a group of American doctors held a press conference on COVID-19, the lockdown, face masks, hydroxychloroquine, and more outside the Supreme Court of the United States.
This video went viral very quickly on YouTube getting over 20 million views in less than 24 hours before the Thought Police (Google, YouTube, Facebook, Twitter) banned it, and the groups website was taken down. But there's good news. You can watch the full video at the link provided here.
WATCH
America's frontline doctors now have a new website: https://americasfrontlinedoctorsummit.com/
Check it out before the Thought Police take it down again.
Breaking News: Half-A-Million March in Germany Against Covid-19 Lockdown, Masks, Social Distancing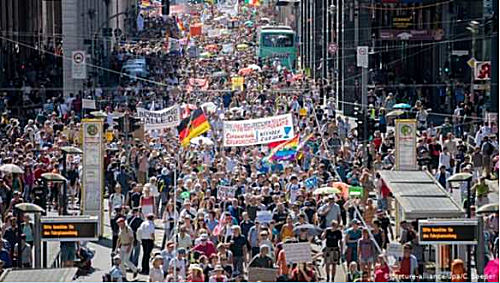 BERLIN. August 1st 2020 – A large-scale rally against restrictive measures in connection with the COVID-19 coronavirus pandemic has taken place in Berlin today, August 1st. The procession started on the boulevard Unter den Linden and moved along the central streets of the city at noon local time.
The marchers shouted energetic slogans "Show me your Smile!", "We are loud because our freedom is being stolen!" "No to Dictatorship – we've seen this before!", "Arrest Bill Gates!"
"Since the meeting at Unter den Linden was quite crowded, our colleagues strongly point to the need to maintain the necessary distance," the press service of the Metropolitan Police wrote on Twitter.
According to their data, which are confirmed by the footage coming from the scene, practically none of those present were wearing masks. Some of the participants brought with them flags with the symbols of various federal states. READ MORE
'Masks are muzzles': Protesters rally outside BBC HQ & march to Downing Street after UK govt widens mask-wearing orders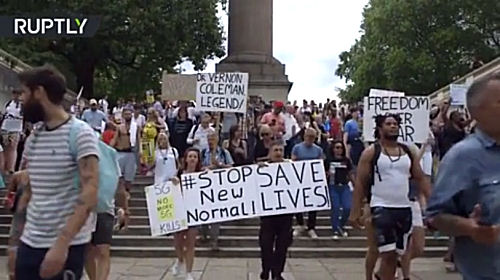 August 2nd 2020 - Activists took to the streets of London a day after the UK cabinet expanded its guidelines for mandatory face coverings. The demonstration comes amid growing skepticism worldwide over the efficacy of such policies.
A large group of demonstrators assembled in Hyde Park on Saturday, where they listened to speeches denouncing the government's anti-coronavirus measures. Piers Corbyn, brother of former Labour leader Jeremy Corbyn, was among the speakers.
Carrying placards reading "Stop the new normal, save lives,""Freedom over fear," and "Masks are muzzles," the protesters then marched towards Downing Street, stopping outside BBC headquarters along the way.
Footage from RT's Ruptly video agency shows a huge crowd, most without masks, filling the streets of the UK capital as they marched toward Downing Street.
One demonstrator who spoke with Ruptly said that he had concerns about mandatory face mask rules.
"I used to be a nurse, a mental health nurse, and one of the things we learnt as mental health nurse students is that it is considered battery to forcibly put something on a person's body without their consent," he said. READ MORE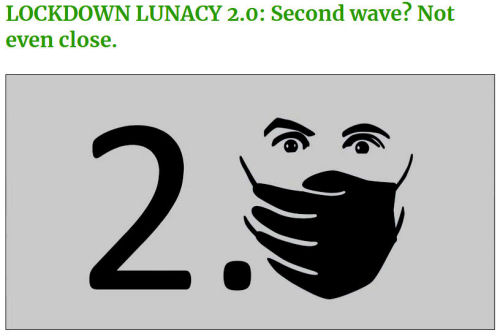 By J.B. Handley
Why did politicians ever lockdown society in the first place? Can we all agree that the stated purpose was to "flatten the curve" so our hospital system could handle the inevitable COVID-19 patients who needed care? At that point, at least, back in early March, people were behaving rationally. They accepted that you can't eradicate a virus, so let's postpone things enough to handle it. The fact is, we have done that, and so much more. The headlines are filled with dire warnings of a "second wave" and trigger-happy Governors are rolling back regulations to try to stem the tide of new cases. But, is any of it actually true and should we all be worried? No, it's not a second wave. The COVID-19 virus is on its final legs, and while I have filled this post with graphs to prove everything I just said, this is really the only graph you need to see, it's the CDC's data, over time, of deaths from COVID-19 here in the U.S., and the trend line is unmistakable: READ MORE
Face Masks Pose Serious Risks to the Healthy
By Dr. Russell Blaylock
"By wearing a mask, the exhaled viruses will not be able to escape and will
concentrate in the nasal passages, enter the olfactory nerves and travel into the brain."
— Russell Blaylock, MD
Researchers found that about a third of the workers developed headaches with use of the mask, most had preexisting headaches that were worsened by the mask wearing, and 60% required pain medications for relief. As to the cause of the headaches, while straps and pressure from the mask could be causative, the bulk of the evidence points toward hypoxia and/or hypercapnia as the cause. That is, a reduction in blood oxygenation (hypoxia) or an elevation in blood C02 (hypercapnia). READ MORE
Was Covid-19 A Planned "Pandemic"

In this bombshell interview, esteemed researcher, virologist, and former director at the National Cancer Institute, Dr. Judy Mikovits PHD exposes Dr. Anthony Fauci and Bill Gates' connection to the coronavirus and the Wuhan lab.
This extremely important interview has been banned by the
Thought Police, (Facebook, Twitter, and YouTube) and the website, Plandemicmove.com has been taken down. But the good news is you can watch the entire interview at this link. WATCH
Surgeon General says, face masks are, NOT effective in
preventing the general public from catching the Coronavirus

U.S. Surgeon General Jerome Adams said on "Fox & Friends" Tuesday that "the data doesn't show" that wearing masks in public will help people during the coronavirus pandemic.
"It's important to understand that we are looking at the data every single day and we make the best recommendations to the American people we can based on what we know," Adams said on Tuesday.
"What the World Health Organization [WHO] and the CDC [The Centers for Disease Control and Prevention] have reaffirmed in the last few days is that they do not recommend the general public wear masks."
READ MORE

Catholic Clergy Says Covid-19 Is Being Used As A Pretext By Hidden Powers To Establish A World Government Beyond All Control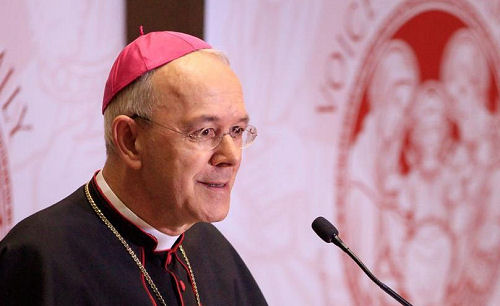 Archbishop Carlo Maria Viganò
In this time of great crisis, we Pastors of the Catholic Church, by virtue of our mandate, consider it our sacred duty to make an Appeal to our Brothers in the Episcopate, to the Clergy, to Religious, to the holy People of God and to all men and women of good will. This Appeal has also been undersigned by intellectuals, doctors, lawyers, journalists and professionals who agree with its content, and may be undersigned by those who wish to make it their own.
The facts have shown that, under the pretext of the Covid-19 epidemic, the inalienable rights of citizens have in many cases been violated and their fundamental freedoms, including the exercise of freedom of worship, expression and movement, have been disproportionately and unjustifiably restricted. Public health must not, and cannot, become an alibi for infringing on the rights of millions of people around the world, let alone for depriving the civil authority of its duty to act wisely for the common good. This is particularly true as growing doubts emerge from several quarters about the actual contagiousness, danger and resistance of the virus. Many authoritative voices in the world of science and medicine confirm that the media's alarmism about Covid-19 appears to be absolutely unjustified. READ MORE
American Association of Physicians and Surgeons Study Shows Hydroxychloroquine Has about a 90 Percent Chance of Helping COVID-19 Patients Survive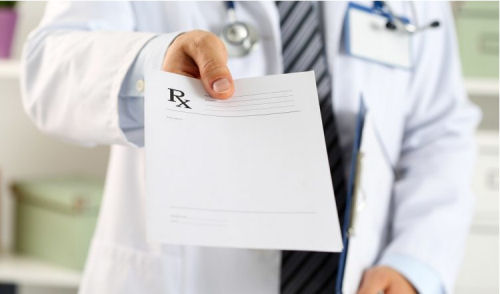 In a letter to Gov. Doug Ducey of Arizona, the Association of American Physicians and Surgeons (AAPS) presents a frequently updated table of studies that report results of treating COVID-19 with the anti-malaria drugs chloroquine (CQ) and hydroxychloroquine (HCQ, Plaquenil®).
To date, the total number of reported patients treated with HCQ, with or without zinc and the widely used antibiotic azithromycin, is 2,333, writes AAPS, in observational data from China, France, South Korea, Algeria, and the U.S. Of these, 2,137 or 91.6 percent improved clinically. There were 63 deaths, all but 11 in a single retrospective report from the Veterans Administration where the patients were severely ill.
The antiviral properties of these drugs have been studied since 2003. Particularly when combined with zinc, they hinder viral entry into cells and inhibit replication. They may also prevent overreaction by the immune system, which causes the cytokine storm responsible for much of the damage in severe cases, explains AAPS. HCQ is often very helpful in treating autoimmune diseases such as lupus and rheumatoid arthritis.
Additional benefits shown in some studies, AAPS states, is to decrease the number of days when a patient is contagious, reduce the need for ventilators, and shorten the time to clinical recovery. READ MORE
Association of American Physicians & Surgeons Sues the FDA to End Its Restrictions on Hydroxychloroquine
TUCSON, Ariz., June 2, 2020 /PRNewswire/ -- Today the Association of American Physicians & Surgeons (AAPS) filed a lawsuit, AAPS v. FDA, against the Food and Drug Administration to end its arbitrary interference with the use of hydroxychloroquine (HCQ), which President Trump and other world leaders have taken as a prophylaxis against COVID-19.
Two million doses of HCQ are being sent by the Trump Administration to Brazil to help medical workers there safeguard themselves against the spread of the virus. But at the same time the FDA continues to block Americans' access to this medication.
HCQ has been approved as safe by the FDA for 65 years, and the CDC states on its website that "CDC has no limits on the use of hydroxychloroquine for the prevention of malaria."
More than 150 million doses have been donated to the strategic national stockpile controlled by the federal government, but unjustified FDA restrictions limit its use to only hospitalized patients for whom a clinical study is unavailable. Hospitals are even returning HCQ to the stockpile because they are not able to use it effectively.
"It is shocking that medical workers in Brazil will have access to HCQ as a prophylaxis while Americans are blocked by the FDA from accessing the same medication for the same use," observes AAPS Executive Director Jane Orient, M.D. READ MORE